Tired of looking at patches of dead grass in your yard? How about cleaning up muddy paws?
SYNLawn is Your Answer!
Decrease your cleaning time and get a space that you and your pet will love.
The synthetic grass market is quickly expanding.
We help educate customers about the benefits of utilizing a synthetic dog turf product enabling them to find the best system to meet their needs.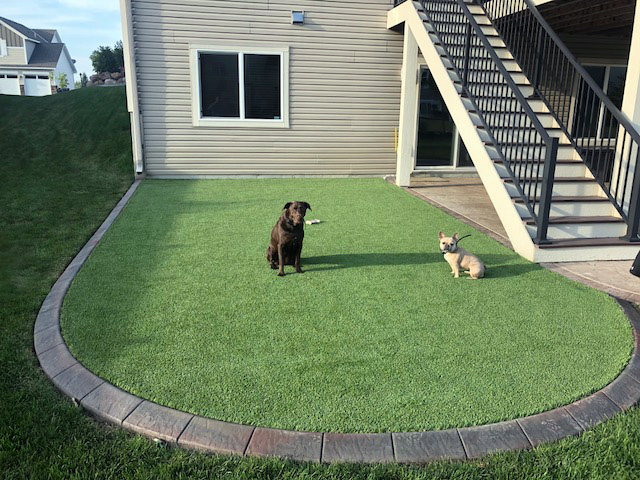 We understand every pet owner has different needs. Therefore our Pet System focuses on finding the right mix of artificial grass product selection, installation technique and maintenance schedule individualized for your application.
We work with you to determine just what you need and design your specific artificial grass pet solution to fulfill that need. When it comes to pet products there is no better or safer solution than SYNLawn artificial grass.
Our Pet System is designed for little critters to big dogs for small pet areas to large pet parks with owners with small or large budgets.We at SYNLawn address ALL the needs of the pets and pet owners we serve. We consider everything that goes into making the perfect pet area or dog run before we recommend a solution.
SYNLawn has the widest selection of branded artificial grass pet products in the industry giving you the freedom to choose the right look to fit your landscape.
Residential Putting Green

Residential Backyard and Bocce Court
Optimal Water Drainage (or any other liquid) drains right through at a rate up to 90-inches per hour. With no standing water your pets will be able to use the area right after the storm.



Size of the animal




Size of the landscape area




The time pets spend in the area




Security measures for destructive dogs




Personal preference of product



SIGN UP FOR A FREE ESTIMATE
Looking for a free estimate? Send us a message and we'll get back to you ASAP!