Artificial Grass Installation for Dogs
Tired of looking at patches of dead grass in your yard? How about cleaning up muddy paws?
SYNLawn is Your Answer!
Decrease your cleaning time and get a space that you and your pet will love.
The synthetic grass market is quickly expanding.
We help educate customers about the benefits of utilizing a synthetic dog turf product enabling them to find the best system to meet their needs.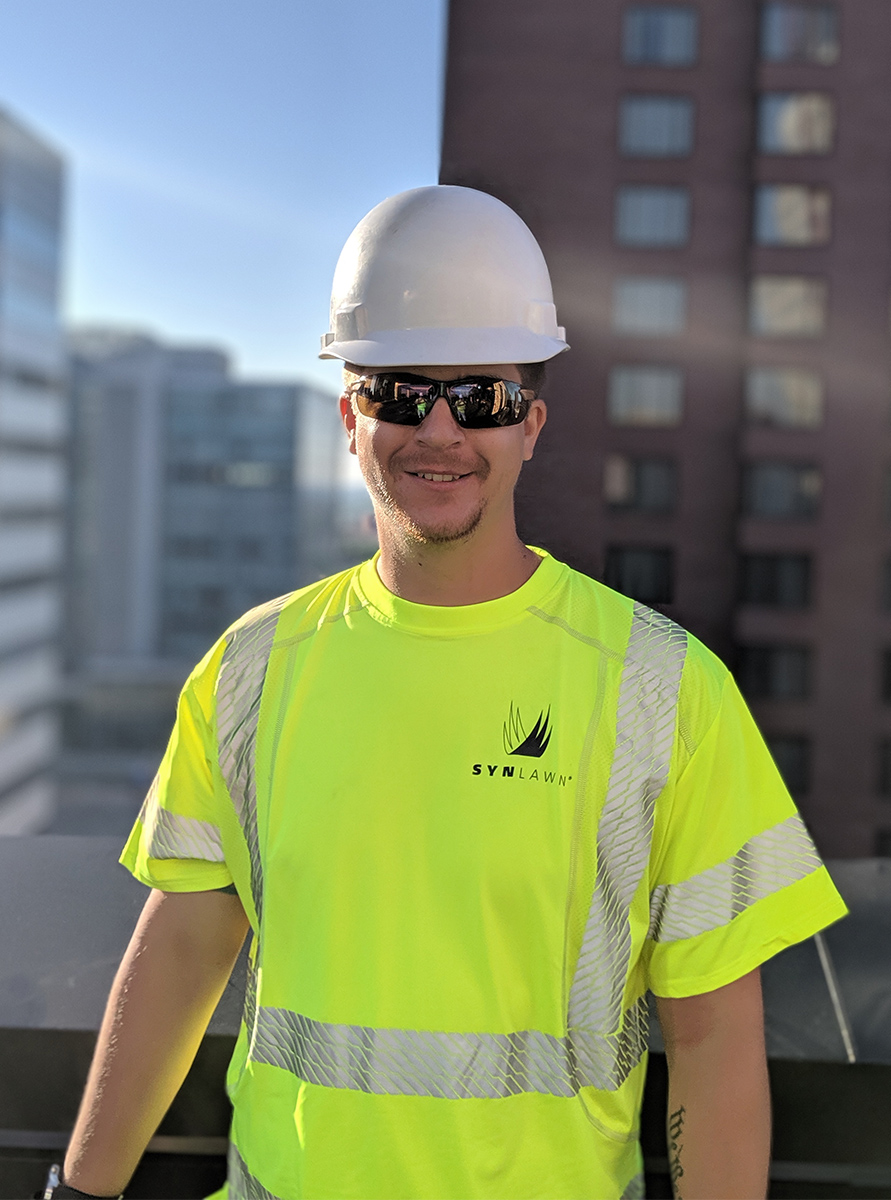 Pets come in all shapes and sizes. "Chica" the 8 lb. chihuahua would not have the same needs as say Daisy and Duke, two 80 lb. labradors.
When building an artificial grass pet area … size matters.Many pet owners have more than one dog. Kennels and doggie day-care facilities have 100's of animals.
Having more animals causes more wear and more maintenance. The number of dogs influences synthetic turf product selection.
Some dogs spend all their time outdoors while others spend only a little. "Trapper" the border collie has the whole yard to himself while "Boris" the basset hound has limited space in his dog run.
When it comes to available space for your pets … again, size matters.
Clearly there are several factors to consider when developing an artificial grass pet solution for dogs. Therefore it does not make sense to offer only one product installed the same for everyone.
The SYNLawn Pet System provides an individual solution for each pet application based on the needs of you and your dog.
SYNLawn has the widest selection of branded artificial grass pet products in the industry giving you the freedom to choose the right look to fit your landscape.
Residential Putting Green

Residential Backyard and Bocce Court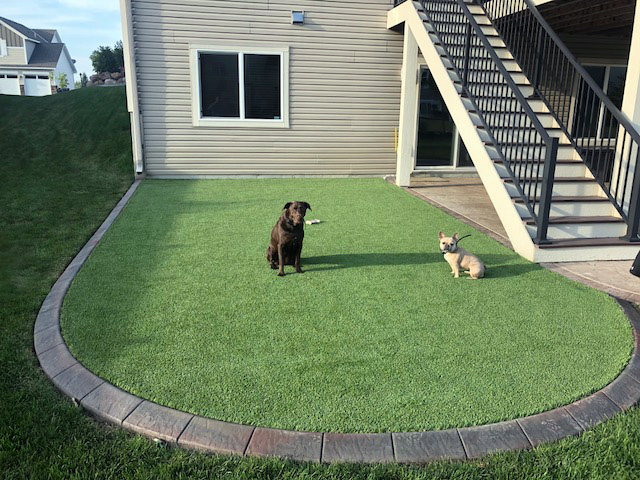 Can Dogs Pee and Poop on Artificial Grass?
Let it rain. Water (or any other liquid) drains right through at a rate up to 90-inches per hour.
With no standing water your pets will be able to use the area right after the storm. In contrast to natural grass, our synthetic grass installation will not soak up all parts of dog urine and waste. SYNLawn's grass will not be damaged from your pets waste or pee.
Your pets urine simply washes away, like rainwater, so you won't need to stress about waste building up.
Simply scoop up your pets waste and wash clean with a hose!
Can Fleas Live in Artificial Grass?
Actually, fake grass is made of PE and PP materials which are not permeable with smooth surfaces, it is extremely hard for insects to develop. No, insects won't live in counterfeit grass.
Is Artificial Turf Installation OK for Dogs?
Pets can use the lawn with artificial turf just as it would natural grass.
Using the right infill will also make your pet more comfortable in the yard.
While there are several types of infill, we recommend using a 100% safe, environmentally friendly odor-absorbing infill preventing ammonia from turning into a gas, thereby eliminating the smell.
Our pet deodorizing top-dressing options also help keep grass cool, and won't clog drainage or deteriorate your grass.
What Happens if a Dog Poops on my Artificial Grass?
Don't go into a frenzy of you missed a piece of poop for a few days, or notice the smell pet waste coming from an area. Animal waste such as dog poop and urine generally will not cause any damage or discoloration to your artificial grass.Simply pick up the solid waste and wash off the area with a garden hose.
Residential Putting Green

Residential Backyard and Bocce Court
Does Artificial Grass Go Moldy?
In order for mold to grow you need moisture and limited air circulation. With our proper installation, we ensure your synthetic grass achieves proper drainage requirements similar or even better in most cases than natural grass.
When this is achieved, mold, and mildew have no ground to stand on and very rarely if ever cause any issues with the development of mold.
What is the Lifespan of Synthetic grass?
Between 15 and 20 years….
We take measurable steps in providing synthetic turf pet products that have an extended lifespan, reduce your carbon footprint, conserve water, and use renewable and recycled materials in manufacturing.
If properly maintained and used correctly, your artificial grass will last somewhere between 15 and 20 years, even with frequent use.
Engineered using the EnviroLoc™ backing system, these products replace up to 60 percent of the petroleum-based polymers with renewable soybeans to create superior strength, dimensional stability and healthy contribution to environmental sustainability.
The first component is the primary backing which helps extend the product life cycle by using 10% less material that is stronger and has superior dimensional stability compared to traditional artificial grasses. Product lifespan is further extended on the face by incorporating nylon 6 in the fibers adding up to 50% longer life.
The second component is the secondary backing which incorporates an eco-friendly polyurethane that replaces up to 60% of the petroleum-based polymers with renewable resources such as soybean oil.
By far the best way to ensure that your artificial lawn has the longest lifespan possible is to ensure that it is properly installed in the first place.
SIGN UP FOR A FREE ESTIMATE
Looking for a free estimate? Send us a message and we'll get back to you ASAP!